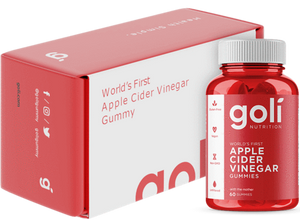 Apple Cider Vinegar Gummy by Goli Nutrition - (1 Pack, 60 Count, with The Mother, Gluten-Free, Vegan, Beetroot, Pomegranate)
Vegan, Non-GMO, Gluten-free & Gelatine-free: Each bottle of Goli contains 60 delicious vegan, non-gmo, gluten-free & gelatine free Apple Cider gummies. Our formula will make Apple Cider Vinegar gummies accessible to anyone and everyone.

Enjoy all of the benefits of Apple Cider Vinegar without the downside of drinking it. Goli is an excellent and easy way to incorporate Apple Cider Vinegar into your daily routine.

Made in USA: with select ingredients thoughtfully curated from around the world. All Goli products are made in allergen-free state of the art facilities in the United States to ensure that the quality of our product is the highest it can be.

Real apples, vitamin packed, great taste: Made with real apples, beetroot and pomegranate, Goli Gummies are as delicious as they are good for you.

For every bottle you purchase Goli donates a 6 months supply of micronutrients to a child in order to fight malnutrition around the world.