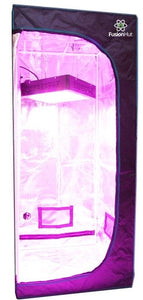 Complete Grow Kit (Advanced)
4' x 4' Fusion Hut Ultra Premium Tent 
Mars Hydro II 700 Watt LED
4" Fusion Fan (+ Fan Controller) and Charcoal Filter
Complete Advanced Kit Also Includes: 1 Hygrometer, 1 roll Aluminium Duct Tape, 2- 6" Clip fan's, Rope Ratchet Light Hanging Kit, 4- 12 Gallon Fabric Pots, 1- 3 Way Moisture Light PH Meter, 1 Precision Pruner.
Add Propogation options in additional items.
Propogation Add On (+$120.00) Includes Seeding Heat Mat and Mini Propagation Green House with 36W LED's.