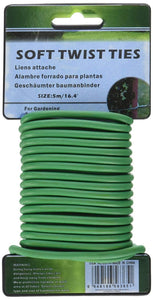 Soft Twist Ties
This product has hundreds of uses! The perfect accessory for handymen and gardeners!

The inner core is galvanized steel wire, making it incredibly strong, while the coating is UV-stabilized rubber, which can be easily cut with a pair of scissors and secured with a quick twist

Perfect for tying up plants, delicate stems, branches, gutters, and so much more! Color easily blends in with branches and other household materials.

Each pack contains 5 meters (16 feet); 3mm (0.12") diameter

So versatile & easy, you'll wonder how you lived without it!