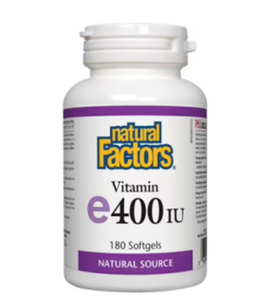 Vitamin E 400 IU (90)
Excellent antioxidant
Protects cell membranes
Supports nerve and muscle function
Provides immune support
May protect against cardiovascular disease
Topically: helps eliminate scarring after skin injury or burn
Natural Factors Mixed Vitamin E offers naturally sourced vitamin E (d-alpha-tocopherol) with mixed tocopherols beta, delta, and gamma for greater benefits. Vitamin E is a powerful antioxidant that offers protection from free radicals and helps in the maintenance of good health
Advanced Info
Vitamin E is a fat-soluble vitamin that is comprised of a group of eight compounds: four tocopherols and four tocotrienols. Vitamin E activity is most often attributed to the d-alpha tocopherol form; however, research shows that beta-, gamma-, and delta-tocopherols also have significant biological activity in the body. Gamma-tocopherol has specifically been shown to exhibit superior anti-inflammatory and antioxidant properties.
Natural Factors Mixed Vitamin E contains d-alpha tocopherol, along with beta-, delta-, and gamma- tocopherols. D-alpha tocopherol, the most potent tocopherol, is natural and is more available for use in the body then its synthetic counterpart dl-alpha tocopherol. Mixed vitamin E tocopherols enhance the anti-inflammatory and antioxidant activity of a single tocopherol vitamin E. 
Vitamin E is primarily known for its powerful antioxidant benefits. It helps to protect cell membranes against damage caused by free radicals and prevents the oxidation of LDL ("bad") cholesterol. Oxidized LDL cholesterol contributes to the development of atherosclerosis, which inhibits normal circulation of oxygenated blood to the tissues. 
Vitamin E is also necessary for the structural and functional maintenance of cardiac, skeletal, and smooth muscles.
Medicinal Ingredients
| | |
| --- | --- |
| Each softgel contains:  |   |
| Vitamin E (d-alpha tocopherol)  | 400 IU (268 mg AT)  |
| with mixed tocopherols: beta, delta, and gamma |   |
Non-Medicinal Ingredients
Softgel (gelatin, glycerin, purified water), soybean oil.
Suggested Use
Antioxidant for the maintenance of good health.