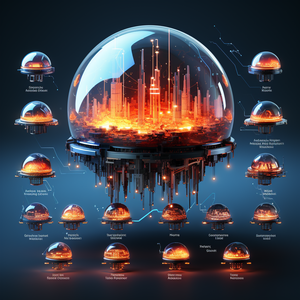 Web Design (Advanced)
Introducing our "Advanced Website Design" package, the pinnacle of web design excellence, tailored to meet the demands of businesses that require a truly exceptional online presence. Priced at $1500, this premium package offers a wealth of advanced features, custom coding, and unparalleled design sophistication.
🌟 **Custom Coding**: Our team of experienced developers will handcraft every aspect of your website, providing you with a unique and tailored online platform. From intricate animations to personalized functionalities, we make your website dreams a reality.
🎨 **Bespoke Design**: Elevate your brand to new heights with a fully customized design that reflects your unique identity. We'll work closely with you to ensure every element, from color schemes to typography, aligns seamlessly with your vision.
🛍️ **E-commerce Integration**: Transform your website into a powerful online store with integrated e-commerce capabilities. Our advanced package includes the setup of an online shopping cart, secure payment gateways, and inventory management to help you sell products or services effortlessly.
🔐 **Enhanced Security**: Your website's security is our top priority. We'll implement advanced security measures, including SSL certificates, firewall protection, and regular security audits, to safeguard your online presence and customer data.
🚀 **Performance Optimization**: Expect lightning-fast loading times and exceptional performance. We'll optimize your website to ensure it not only looks fantastic but also functions flawlessly, even under heavy traffic.
🌐 **Multi-platform Compatibility**: Your website will be fully responsive and compatible with all major web browsers, ensuring a consistent and user-friendly experience on various devices and platforms.
📈 **Advanced Analytics**: Gain deep insights into your website's performance with advanced analytics tools. Monitor user behavior, track conversions, and fine-tune your digital strategy for maximum impact.
🌐 **Content Management**: Take control of your website's content with a user-friendly content management system (CMS). Update and manage your site's content effortlessly, without the need for technical expertise.
🌍 **Global Reach**: Our advanced package includes localization options, allowing you to reach a global audience by providing content in multiple languages and optimizing for international SEO.
🚨 **24/7 Support**: Enjoy peace of mind with our round-the-clock customer support. Our dedicated team is always ready to assist you with any technical issues or updates you may need.
With our "Advanced Website Design" package, you're not just getting a website; you're getting a cutting-edge digital asset that sets you apart from the competition. Elevate your online presence, enhance user engagement, and unlock the full potential of your business with our premium web design service. Invest in excellence and watch your business thrive online!